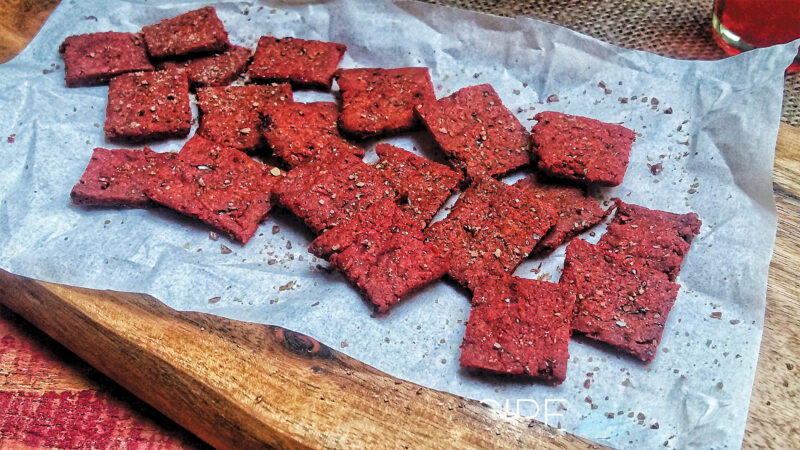 INGREDIENTS
½ cup grated boiled beetroot

1 tablespoon ragi flour

1 tablespoon whole wheat flour

1 tablespoon rajgira or

amaranth flour

½ tablespoon oat flour

½ tablespoon sago flour

½ teaspoon cumin powder

¼ teaspoon carrom seeds (ajwain)

½ teaspoon flaxseed powder

Salt to taste

¼ teaspoon red chilli powder

(optional)

2 teaspoons rice bran oil

¼ teaspoon baking powder
METHOD
Mix all the ingredients and knead them into a soft dough. The moisture of the beetroot and oil will be enough and no water needs to be added.

Cover the dough with a damp cloth or plastic wrap and leave it for 10 minutes.

Pre-heat the oven to 150˚C and grease a baking tray.

Roll the dough into a thick chapati and cut it into small square-shaped crackers.

You could use a pair of kitchen scissors to trim the sides to make the crackers more uniform.

Place the crackers on the baking tray and bake for 7 minutes on one side. Then flip them and bake for another 5 minutes on the other side at 150˚C.

Now check if the crackers are crispy enough; if not, grill them for another 2 to 3 minutes. Remember, too much grilling will change the taste and burn them, so be cautious.

Let them cool down and serve with some chaat masala or flaxseed powder.
Rakshita Dwivedi is an entrepreneur who runs Recipe Dabba, which empowers kids with healthy food choices and uses cooking as a gender agnostic life skill. She has won many awards including the Orange Flower Award, Women Disruptors Award, Homepreneur Award and Web Wonder Women awarded by the Ministry of Women and Child Development. For more recipes, follow her on Instagram @recipe_dabba