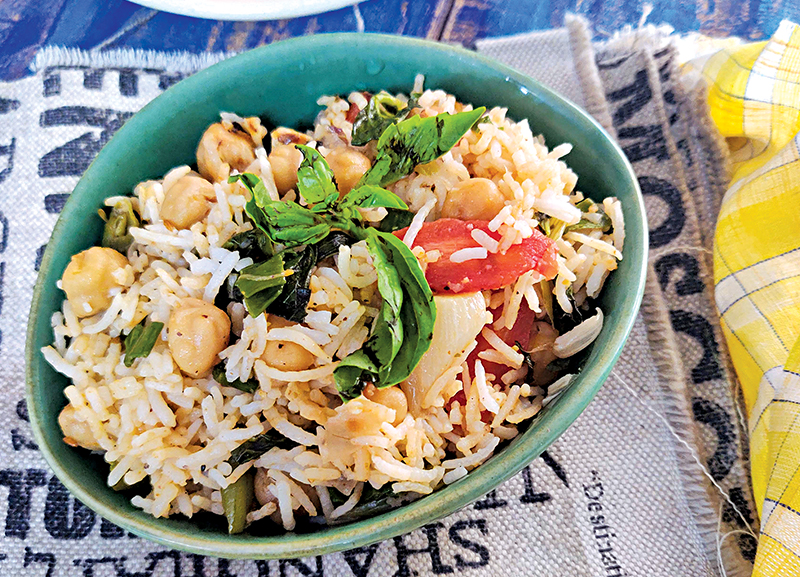 INGREDIENTS
20 basil leaves
1

½

cups steamed rice
1 cup boiled chickpeas
1 cup spring onion greens, chopped
1 spring onion white, sliced
1 tablespoon chopped garlic

¼

cup French beans, sliced

¼

cup carrot, sliced
1 teaspoon black pepper

¼

teaspoon garam masala
1 tablespoon tomato sauce or purée
1 tablespoon salt
1 tablespoon oil
METHOD
Heat the oil and sauté the garlic in it. Add the spring onion whites and vegetables and toss them on a low flame.
Now add 3 to 4 basil leaves, black pepper, garam masala and the boiled chickpeas.
Cook for 2 minutes and add some more basil leaves and 2 tablespoons of spring onion greens along with the salt and tomato purée.
Cover this with steamed rice and top it with the remaining green onions and basil leaves. Sprinkle some more black pepper and cover it. Cook on a low flame for 2 to 3 minutes to let the rice soak in all the basil aroma.
Once you take it off the flame, gradually mix everything and serve hot.
Rakshita Dwivedi is an entrepreneur who runs Recipe Dabba, which empowers kids with healthy food choices and uses cooking as a gender agnostic life skill. She has won many awards including the Orange Flower Award, Women Disruptors Award, Homepreneur Award and Web Wonder Women awarded by the Ministry of Women and Child Development. For more recipes, follow her on Instagram @recipe_dabba

Do some research online to answer the following.
Example: Beetroot: root; Parsley: herb