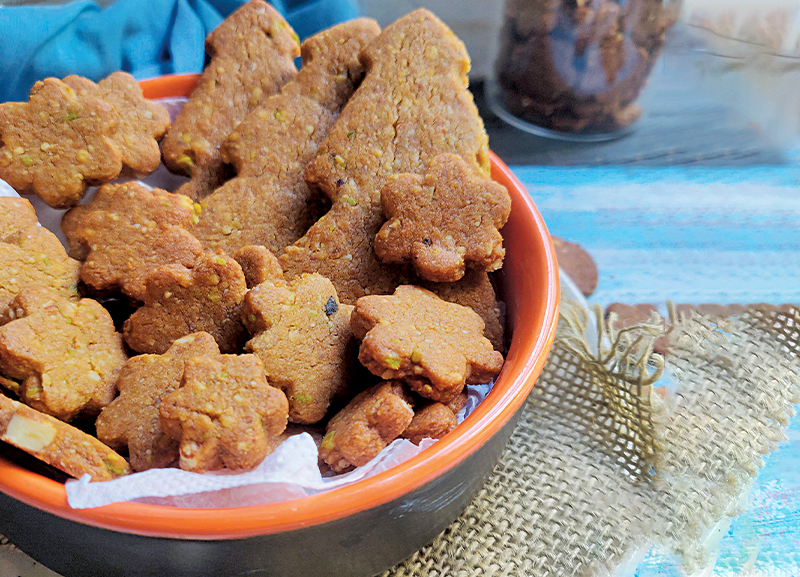 INGREDIENTS
1 cup wholewheat flour

¾

cup jaggery
4 tablespoons ghee

¼

cup milk
1 teaspoon baking soda

¼

teaspoon salt

½

cup almonds, powdered
1 teaspoon coffee powder
1 teaspoon vanilla essence
METHOD
Take a deep bowl and add the jaggery, coffee, vanilla essence and ghee to it. Mix well using an electric beater so you can incorporate the ingredients enough to make your cookies crispy. You can mix with a spatula too.
Next, add the baking soda and salt to the flour and sieve it twice. Now, add 2 spoons at a time and start mixing the flour into the ghee and jaggery mix.
Mix gradually with a spoon, ensuring you do not over mix it. You can use a little milk to make the dough softer but remember, it must be dough and not batter.
n the end, add the almond powder and mix it well.
Use your hands to bring the dough together and then keep the dough in the refrigerator for 15 minutes.
Preheat the oven to 180˚C and then bring out the dough. Roll the dough and use a cookie cutter to gently cut out cookies of the desired shapes.
Transfer your cookies to a baking tray and bake for 12 to 15 minutes. Let them stay in the oven for 10 minutes to harden and then cool them on a rack.
Drizzle some powdered sugar on your cookies if you wish and store your cookies in an airtight container.
Rakshita Dwivedi is an entrepreneur who runs Recipe Dabba, which empowers kids with healthy food choices and uses cooking as a gender agnostic life skill. She has won many awards including the Orange Flower Award, Women Disruptors Award, Homepreneur Award and Web Wonder Women awarded by the Ministry of Women and Child Development. For more recipes, follow her on Instagram @recipe_dabba