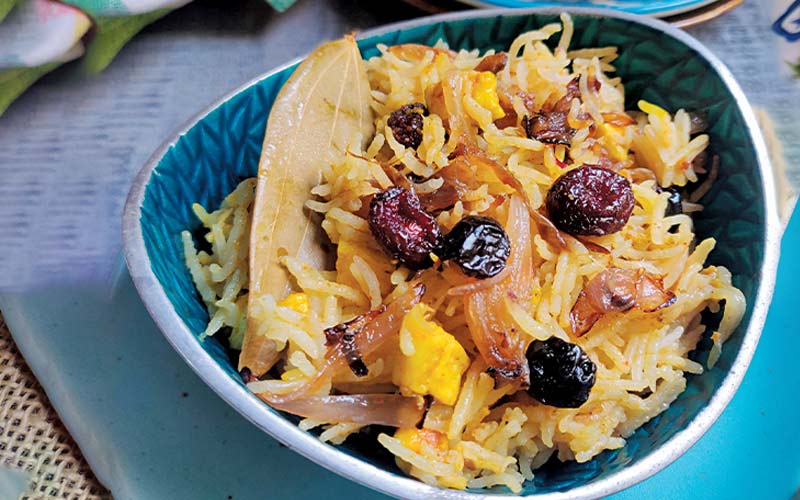 INGREDIENTS
1 cup rice
150 grams paneer (cottage cheese)

¼

cup mixed dried berries
2 onions, sliced
2 cups vegetable stock
1 teaspoon salt

¼

teaspoon turmeric powder

¼

teaspoon cumin powder

¼

teaspoon red chilli powder

¼

teaspoon black pepper powder
1 teaspoon garam masala

¼

teaspoon chaat masala

¼

teaspoon cumin seeds
1 bay leaf
5 peppercorns
2 green cardamoms
4 cloves
1 tablespoon ginger-garlic paste
10 strands saffron
1 tablespoon milk
2 tablespoons curd
1 teaspoon oil
1 teaspoon ghee
METHOD
Make a mix of the following dry spices—

¼

teaspoon each salt, turmeric powder, cumin powder, red chilli powder, black pepper powder, garam masala and chaat masala. Dice the paneer into cubes and let it marinate in this dry spice mix. Keep it aside for 30 minutes.
In a pan, heat a little oil and sauté half of the sliced onions till they are brown. Keep them aside.
In the same pan, heat the vegetable stock and add the rice to it. Add salt and let it cook. Remember, this rice doesn't have to be fully cooked.
Meanwhile in a wok, heat 1 tablespoon oil and add the cumin seeds, bay leaf, peppercorns, cardamoms and cloves and then add the second half of the sliced onions. Cook on a low flame. Add the ginger-garlic paste and sauté for 5 minutes.
Mix the saffron in hot milk and let it sit for 1 minute.
To the wok, add half of the berries and the marinated paneer and cook for a while. Then add 2 tablespoons of curd and cook for another 2 minutes. Add salt and the semi-cooked rice. Top it up with more berries, fried onions and 1 teaspoon ghee. Then sprinkle some garam masala and saffron milk. Cover the wok with a tight lid and let it cook on a slow flame for 5 to 7 minutes. Let it sit covered for a while before you take the lid off. Mix the rice well and serve with raita.
Rakshita Dwivedi is an entrepreneur who runs Recipe Dabba, which empowers kids with healthy food choices and uses cooking as a gender agnostic life skill. She has won many awards including the Orange Flower Award, Women Disruptors Award, Homepreneur Award and Web Wonder Women awarded by the Ministry of Women and Child Development. For more recipes, follow her on Instagram @recipe_dabba

Do some research online and find the biological names of the trees these spices come from.